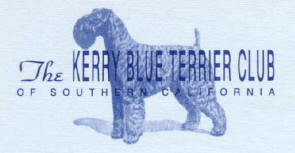 President's Message
Congratulations! You've found the Kerry Blue Terrier Club of Southern California, and we will do everything we can to help you find – and grow with – your own Kerry Blue Terrier.
We're biased, of course, but we believe the Kerry Blue Terrier is the best-kept secret of the purebred dog world. We love them for their longevity, their joyful personalities, and remarkable loyalty.
You won't see many Kerry Blues; that surprises those of us who know this very special breed. But I'm sustained by my relationships with my own Kerry Blues – and by the tremendous bond I see between my fellow Kerry Blue owners and their dogs. It's a relationship that cannot be matched.
Let us know how we can help you in your journey with your own Kerry Blue Terrier – even if this is your very first step!
Doug Keene
KBTCSC President